Michael Jordan Trophy: The trophy presented to the NBA's most valuable player is to be renamed the Michael Jordan Trophy. Also, It is one of six newly designed trophies named after NBA superstars and it follows the naming of the All-Star Game MVP trophy after the late Kobe Bryant. Wilt Chamberlain, John Havlicek, George Mikan, Hakeem Olajuwon, and Jerry West are the other five ex-players. While playing for the Chicago Bulls, six-time NBA champion Michael Jordan won the MVP award five times.
Michael Jordan played for the Bulls for the majority of his 1984–present career, during which time he established himself as a global superstar and contributed to the NBA's increased notoriety.
Michael Jordan Trophy: Names of All New Trophies
Following are the names of the names of all the new trophies renamed by NBA:
Michael Jordan Trophy which was previously known as MVP
Hakeem Olajuwon Trophy which was previously known as Defensive Player of the Year
Wilt Chamberlain Trophy: Rookie Of the Year
Jerry West Trophy: Clutch Player of Year
John Havlicek Trophy: Sixth Man of Year
George Mikan Trophy: Most Improved Player of the Year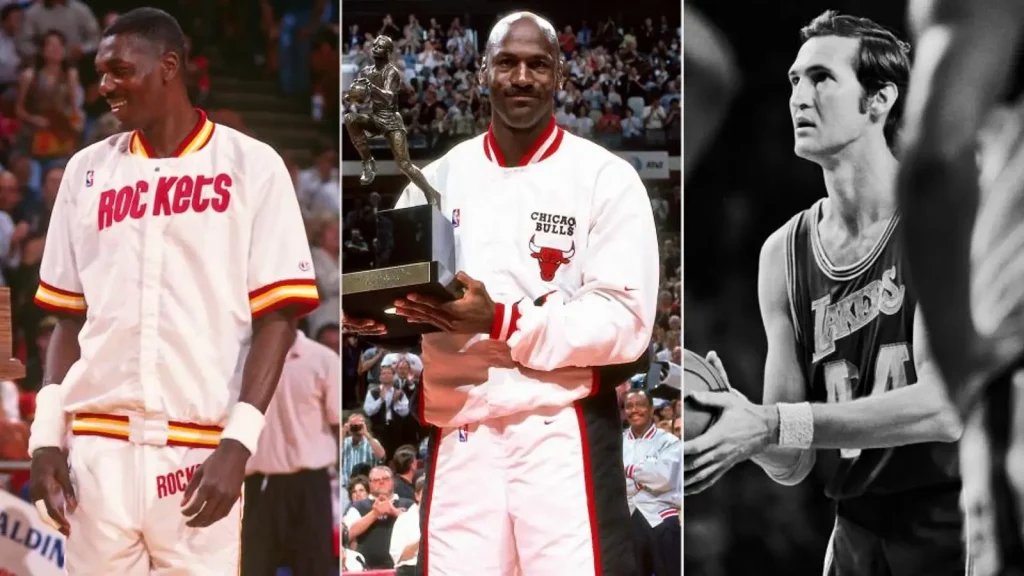 Also Read: Top teams in the NBA 2022-23 season
Michael Jordan Trophy
In honour of Jordan's jersey number 23, his six championships, and its 23.6-inch height and 23.6-pound weight, the Michael Jordan Trophy was created. Additionally, Jordan's five league MVPs are represented by the base's five sides.
About Michael Jordan
Former professional basketball player Michael Jordan, often known by his initials MJ, is an American businessman. According to his biography on the NBA website, Michael Jordan is unquestionably the best basketball player to ever play the game. He competed in the National Basketball Association (NBA) for fifteen seasons, earning six NBA titles with the Chicago Bulls. Jordan serves as the chairman and primary owner of 23XI Racing in the NASCAR Cup Series as well as the NBA's Charlotte Hornets. Additionally, in the 1980s and 1990s, he played a key role in the NBA's globalisation and rose to fame as a global cultural hero.
Also Read: Top 5: Youngest Players in NBA History
The post NBA renames the MVP award the Michael Jordan Trophy appeared first on The SportsLite.